Download Center
Customer Area
4 & 5 axis advanced Milling Software
Mayka Dental V3.0
: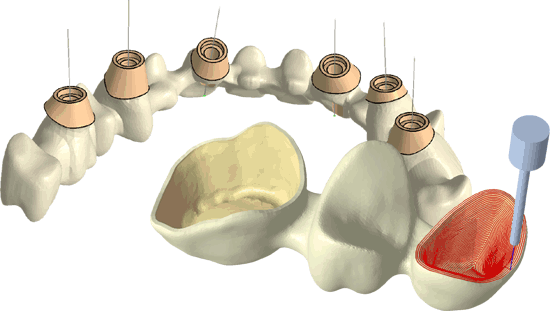 100% compatibility to your milling system
Adapted to any material (Zircon, pmma, Chrome Cobalt, Titanium, ...)
Reduce drastically blank area thanks to advanced placement techniques (up to 52 zirconium units in a 100mm round stock)
Free choice of the material (no obligation with system provider)
Very attractive price without annual fees
If you would like more information about the product and learn all about its possibilities regarding your application please feel free to contact us at dental@picasoft.com.
You will be connected to Picasoft team in a short time.
Please complete this Form to access the documentation.
Compatibility
CAD / Scanner :

STL file import for compatibility with the most popular scanner and CAD software on the market like 3Shape, Dental Wings, Evirsa, Laser Denta...

CNC Machines :

Open Software compatible with many different machines tools on the market (CharlyRobot, Imes, Isel, Roland, YenaMak, ...) Possible evolution with new post processor on request.

Operating System :

Windows 2000, XP & Vista

Hardware :

DualCore Processor, 3Gb Ram, Nvidia graphic card and 22 inches screen